What Insurance Is Available To A North Carolina Motorcycle Wreck Victim?
Do you need help with the insurance company for your North Carolina motorcycle accident claim?  Has the insurance company denied your claim or undervalued your claim following a motorcycle wreck in North Carolina?
A motorcyclist hurt in a wreck in North Carolina has many insurance issues to sort out and we can help with your claim.  Our North Carolina motorcycle insurance claim lawyers have significant experience will all types of motorcycle wreck insurance claims.
The most frequent type of North Carolina motorcycle wreck is when a motorcyclist is hit by a car or truck.  Under these circumstances, an injured North Carolina motorcyclist is entitled to assert a claim against the car or truck's liability insurance.  Under North Carolina law, any automobile using the streets and highways of the state is required to carry at least $30,000 of liability insurance for bodily injury coverage.  For a truck, the required insurance may be higher depending on the size and type of truck.
But what if the car or truck does not have enough insurance or is driving illegally without insurance for the injured motorcyclist's claim?  This is not always the end of the line for the injured North Carolina motorcyclist.  Assuming the motorcyclist has their own insurance, the motorcyclist should contact this insurance company and make a claim and our North Carolina motorcycle insurance claim lawyers can help you with this process.
Most North Carolina motorcycle insurance policies will contain coverage called Uninsured and Underinsured Motorist insurance which will step in as if this were the insurance for the person who hit you.  Additionally, a motorcyclist who has a separate insurance policy for their automobile may also have a claim for Uninsured and Underinsured Motorist insurance under their auto policy.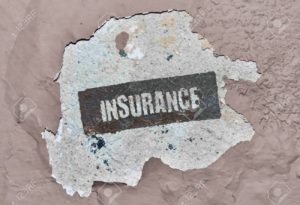 When evaluating these insurance issues, it is critically important to know that you have looked for all available insurance to provide Uninsured Motorist and Underinsured Motorist coverage.
Occasionally, we come across a North Carolina motorcycle wreck that was caused due to unsafe road conditions.  Motorcycle wrecks due to unsafe road conditions are among the most difficult to evaluate.  Depending on the type of road and who had the obligation to maintain the road, there are numerous possible types of insurance coverage.  For wrecks on state maintained highways, claims would be covered under the North Carolina State Tort Claims Act which caps recoveries at $1,000,000 for any one person.  In order to find out if there is coverage for other claims against a municipality, the injured person may need to send a request to the municipality to obtain insurance information.
Most injured North Carolina motorcyclists will find it difficult to assert a claim for Medical Payments coverage against their own insurance company.  Most North Carolina insurance policies will contain an exclusion in the Medical Payments portion of the policy for injuries arising out of the operation of a motorcycle.  However, in each case the injured motorcyclist should review the specific terms of their policy before accepting the insurance company's denial of a Medical Payments claim.
If you or a family member have been injured in a North Carolina motorcycle wreck and have questions about what insurance might apply to your motorcycle injury case, call the lawyers at Hendren Redwine & Malone for a free consultation or simply send us a question using the box on the right side of this website.  Our North Carolina motorcycle insurance claim lawyers may be able to help you with your claim.  There is no charge for the call and we charge attorney's fees only if we recover money for you.