NC Moped and Scooter Wreck Lawyers
Have you been injured in a North Carolina moped accident or scooter accident and have questions about your legal rights?
If so, call the North Carolina moped injury and scooter injury lawyers at Hendren Redwine & Malone today to discuss your claim.  We have helped moped and scooter accident victims across North Carolina.  We have recovered millions of dollars for our personal injury clients.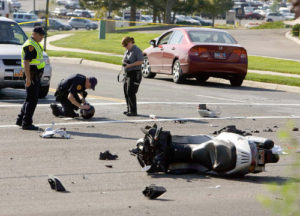 A moped or scooter accident can sometimes get complicated.  First, what insurance is applicable to the claim?  This may depend on several things in addition to the insurance available for the other driver.  Under some circumstances, a moped or scooter driver may have underinsured motorist coverage that could potentially provide extra insurance for an injured driver.
Second, mopeds and scooters are considered vehicles under North Carolina law (N.C.G.S. 20-4.01) but not necessarily motor vehicles.  So, how does that affect the right of a moped or scooter to use the roadway?  Typically, a moped or scooter is entitled to use the roadway the same as a car or truck (subject to minimum speed requirements).  However, a moped or scooter operator must also follow the same laws that a car or truck must follow.  Depending on the facts of a particular accident, the application of the laws to the vehicles involved can get complicated.
Finally, moped and scooter accident victims are frequently seriously injured.  In many cases, there simply is not enough insurance to cover the medical bills and other losses suffered by the driver.
If you have been hurt in a North Carolina moped or scooter wreck, contact the law firm of Hendren Redwine & Malone for a free consultation. We can help sort through the difficult questions facing a moped or scooter accident victim in North Carolina.